Towing with your Jimny
First, a little bit of background:
Specifications for towing capacity of a brand new Jimny read 350kg for no brakes and a massive 1300kg for a trailer with brakes fitted, with a towball download of 75kg.
For a pre 2007 model, specifications read a much lower 450kg braked. So why the massive difference?
Anti-Skid Braking System (ABS), is the sole reason for this increased towing ability.
Each trailer should have its own identification plate, and there you will find the figures for TARE and GVM or Aggregate Trailer Mass.
TARE represents the mass of the trailer empty.
GVM represents the maximum mass that can legally be carried in or on your trailer, including the trailer weight.

It is suprisingly easy to exceed the GVM of a trailer, and once the load is in, it rarely comes out again until the end of the journey. If you make it that far.

Forums are full of questions and heart breaking stories on how and why towing has gone horribly wrong, and we all want to avoid having one of those stories.
States vary on trailer registration details but mostly a printout of TARE mass is required from an authorised weighbridge before rego can be issued.
Weighbridges provide a cost effective way of finding out exactly how much camping equipment and consumables you can stuff in to your Jimny and trailer for any journey you may be embarking on.
Weigh your camping gear and trailer

Our Journey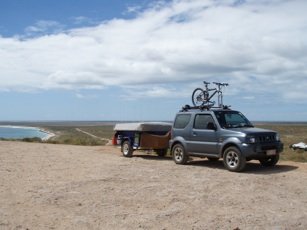 Our little Suzuki started towing a camper trailer North from Mt Isa, finding its first gravel road in under 100km.
In a Jimny its pretty obvious that a trailer is connected to your car, it takes quite a while to get up to a comfortable cruising speed.
It was always going to be a long trip across to Broome, and immediately we found the ride comfort to be a lot better with the trailer, as the harsh ride was dampened with the mass trailing us.

Our camper trailer is 400kg empty.
We added electric brakes, a 135Ah battery (about 40kg and runs the fridge for 4 days when full), 4kg gas bottle, 2 x 20L jerry cans, 60L Engel fridge, recovery equipment, minimal camping gear and it weighed in at 620kg.

Our Jimny's fuel economy usually returns between 8 - 9 L/100km (about 400km per tank), and with the camper connected between 11.5L and 14L/100km (about 320km per tank).

Carrying fuel in jerry cans gave a range of 650km - 700km depending on road conditions.
We initially installed poly air bags to keep the vehicle level and for visibility out the back window and they did a great job, but we now have new springs and shocks and have no rear end sag.

Speed of 100km/hour is achievable, but it gets hammered up hills, 3rd gear and heaps of revs for really steep hills.

But hey, no problem, family camping isn't about pushing the limits, and our Jimny does a good job pulling the weight!
Since that trip across the top, we've used the same set up on short trips out of Broome up to Cape Levique, a round trip from Broome along the Warlu Way through Hammersley Gorge, a trip from Broome down to Perth along the coast road, a number of trips out of Perth to the south coast and out to Wave Rock and then from Perth across to Melbourne via the Nullabor Plain, finally giving the camper trailer a rest after hauling it from Melbourne to Newcastle, through the NSW alpine region.
So that little 4WD was capable of dragging that trailer around 3/4 of Australia. Whatever you might think about the Jimny, you have to give it some respect.
How Do You Camp With Your Jimny?
What's your set-up? Tell us about it here.

It takes a day for your submission to go live, 20 minutes for comments.
Tent City
Read below to see what the possibilities are!