Jimny and Campy in North England and Scotland
by Jens Stahlschmidt
(Carlisle, Cumbria, England)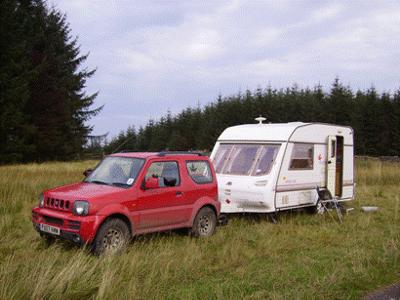 Mr.Jimny and Campy
Got an 07 Jimny and bought a second hand caravan, Campy, this summer. Permitted maximum loaded weight of Campy is 1000Kg.

All sorts of people had told me that Mr.Jimny would be no good for towing Campy. Well we proved them wrong; it works well and poses no problem at all. I agree that on some steep hills Mr.Jimny is puffing and panting a bit, even down to first gear, but on the other hand wet muddy fields have not managed to deter us.

So far we have been on trips all over North England and South Scotland and next year will see us roaming even further afield.