Jimny Issues: Steering Wobble
Unfortunately for Suzuki Jimny drivers, our little gems, as good as they are, have a few issues.

Steering wheel wobble ranges from:
Slight vibrations in a particular speed range, to
Full blown uncontrollable, stop the car immediately or else you're in big trouble, steering shake.

Although steering shake can occur in a stock standard car, mostly it begins after modifications.
The cause is the simple yet highly capable and highly sought after live axle and ladder chassis set-up, which is ideal for four wheel driving, but is a compromise for on road comfort.
From an engineering perspective, live axle and ladder chassis is a proven and capable construction for off road use.  It is very strong, but it is a very old design and suffers from its own simplicity.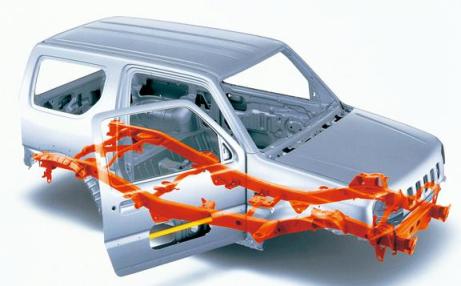 With a large range of after-market products available and the ease of mechanical construction, modifications and repairs are reasonably simple for the home mechanic with a few tools and a shed.

For these reasons, most Jimny owners will eventually have to confront the issue of steering wobble.

What makes the steering wobble?
There are a lot of answers and theories, but in our case:
No pre-load on the steering knuckle (king pin) bearings.

Suzuki, it seems, are aware of the problem, but don't expect much help unless your car is exactly the same as it rolled out of the showroom, and under warranty. Which is a real shame.

I personally would have loved some factory support with at least helping to diagnose the problem. I spent alot of money on wheel alignment and balancing, which helped but never solved the problem.

My steering started shaking after fitting all terrain tyres, same size as standard 205/70R15.
A little shimmy between 72 and 78 km/h started. It was more of a nuisance than a problem at this stage.

Diagnosis was difficault because the day I got new tyres I went bush to test them out. I saw sand, mud, rocks, hill climbs, water crossings, all the fun stuff.
I convinced myself I inflicted some damage which caused the steering wobble.

It never became a problem until I changed the standard springs and shocks and the car raised two inches.
After that the steering wobble turned nasty. It started to wobble at a higher speed band (about 80 to 85km/h) but every so often it would shake uncontrollably and shake the whole car so bad it felt like the driveline was going to explode. Stopping was very difficult especially from speed and it was random and unexpected every time, certainly not predictable like before.

My car became un-drivable and no-one where I lived at the time was willing or able to help fix the problem.
Tips to fix the steering wobble?
Prevention is easier than the cure.

The easiest way is to drive your car as it left the showroom. The Jimny is a very capable 4wd in standard form.

But it's even better with after-market bits thrown at it.

If you change tyre type or size, be prepared to shim the king pin bearings and install a steering dampener.

If you lift the suspension, be prepared to install offset caster bushes.


Shimming a worn out king pin bearing may not fix the steering wobble.
If your car is old, wheel and king pin bearings and seals need to be replaced before the shims will fix the steering shake.
A specific hub removal socket is needed to remove the Jimny's wheel hubs.
Shim kits can be purchased on-line at bigjimny.com (along with very good instructions) or a set of punches and sheets of shim of various size can be purchased and make the shims yourself.

If you intend to use Suzuki or any mechanic to repair the wobble, do not assume they know how to perform this job, a lot of mechanics I have spoke to have never heard of this problem.
Before the work is done ensure both you and the mechanic have a full understanding of the procedure, as too much load on the bearings can cause premature bearing wear.

Maintenance is important on all cars, and it is even more important if you regularly slop around in the wet stuff. The more off road driving you do, the more maintenance you should perform.
Also join a forum, the chances are someone has/or is going through the same Jimny issues as you, buy or download a workshop manual, buy some tools and an oil pump and get to work!
Service your car regularly and learn as much about it as time permits.

Good luck.

Click here for another opinion, based on maths ...
Home › Steering Wobble Top of page