A Jimny and a Tinny
Jimny, Tinny, Boating, do these words really go together?
If you own a Jimny and get out and see some of the country, you may be a keen or even part time angler.
Fishing from the beach, break wall, riverbank, anywhere you can find to wet a line is a great spot, especially if the fish are biting.
But what about those people out in Boats, are they catching more fish? They look like they are having more fun.
I read on a sticker once:
'There is nothing on earth quite like owning a boat'
How about, Owning a Tinny and a Jimny...
Like all things associated with 4WDing and Camping, there is no perfect setup, if there was then everyone would have it.

Boating is also one of lifes great compromises, there is no perfect boat for all occasions, if you own a Jimny you know all about compromising.

Being confined to fishing from terra firma is not something you have to settle for, because you chose to spend less money on your car, you should have a little cash to spend on some toys, water going toys.

Something like a Tinny
Towing a Tinny with a Jimny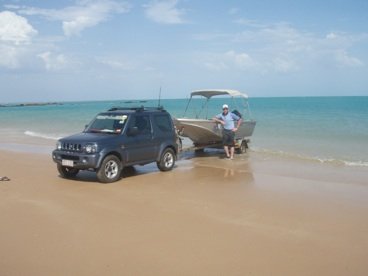 Even with the towing restrictions which come with owning a Jimny,
there are plenty of tinnys available for any budget.
I chose a naked tinny with not much fruit on it to keep the weight down, at the time I was a first time boat owner so there was plenty to learn about what you need and want in a boat.
Living in Broome, a marine radio and dual tanks for range, were essential, depth sounder(I should have dug deeper for a GPS), an esky, bucket, throw net and crab pots was everything I needed.

Towing the tinny was a breeze, launching and recovery was also surprisingly easy as well.
I learned that a shorter tow vehicle makes reversing a much easier task.

Launching and recovery in a Jimny with low range 4WD made it very easy in all launch situations, from beaches to steep and washed out boat ramps, a small and lightweight 4WD gave me plenty of confidence in an area which is famous for its massive high tides and heartbreaking tales of bogged and swamped vehicles.

As with all 4WD activities, tyre pressure and knowledge of what your car is capable of is handy to know before adventures into unfamiliar areas.

As with all things Jimny, the amount you pack into your tinny is important. Keep control of the amount of weight you are towing.
Stay under the legal limits of braked or un-braked towing mass for your Jimny model and remember, the weight of fuel and beer consumed will be replaced with the same weight in fish on the return journey.

The Prize