Blue Car Rental - Iceland
by Magnus
(Iceland)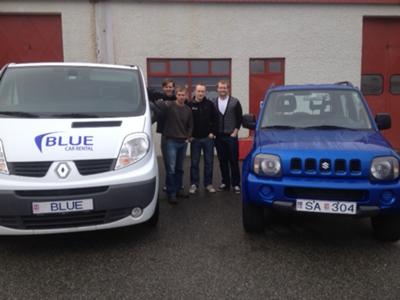 Blue Car Rental staff with airport shuttle and Jimny.
Blue Car Rental is a young, family owned car hire company in Iceland that offers a wide range of rental vehicles, including a fleet of 20 Suzuki Jimny's.

From the start we have focussed on renting out 4x4 vehicles and the Suzuki Jimny was an obvious choice for us.
With it's low price we can offer costumers the opportunity to rent a 4x4 vehicle at low cost that is also fuel efficient.
Driving across Icelandic highland and mountain roads is forbidden unless you have a 4x4 vehicle so the Jimny is perfect for those wanting to experience the wilderness of Iceland without spending a fortune.
Our Jimny's have been driven all over Iceland along every mountain road and highways and never failed to get people to where they are going.

The Jimny is perfect as a rental vehicle for 2 persons travelling as with the rear seats folded down you get a lot of luggage space compared to the size of the car.

Another great thing with the Jimny is the simplicity of it, if there is a breakdown it is easily fixed by a mechanic. Many new cars have complicated computer equipment that sometimes makes fixing a breakdown a little bit harder, that is not the case in the Jimny.

Overall we are extremely happy with our fleet of Suzuki Jimny's and our costumers have not had any complaints about the car, usually they say that it surprised them how well it handled the roads here in Iceland and that they did not quite expect this from such a small vehicle.

So thumbs up for the Suzuki Jimny :)

The picture above is of one of our Blue Suzuki Jimnys and our shuttle which we use to collect our customers from the airport.



Visit Blue Car Rental


Read more Jimny Fleets


Back to Home Page
Join in and write your own page! It's easy to do. How? Simply click here to return to Jimny Fleet 'Meet and Greet'.